Email and Contacts
Migrating from your teenage Gmail account with the unprofessional, or hard to share email address to a new spiffy, professional email address is really easy, but scarcely documented. Here is how to do it.
Sign in to your new Account, and go to Settings (the cog wheel):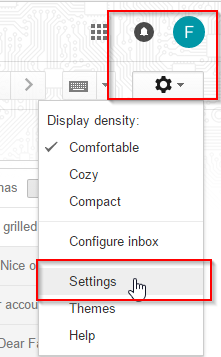 Then go to Accounts and Import, and select Import from another address.
From here, you need only sign in to the old Gmail address and Google will take care of the import in the background.
You need to make sure that you have enough storage in your account for both the new and the old data. For me, this meant ensuring that I had the $2 a month 100GB plan for Google. Totally worth it. I just wish they had a 10TB option for $9.99 a month so I could use it as my cloud drive to rule them all 🙂
Enjoy.